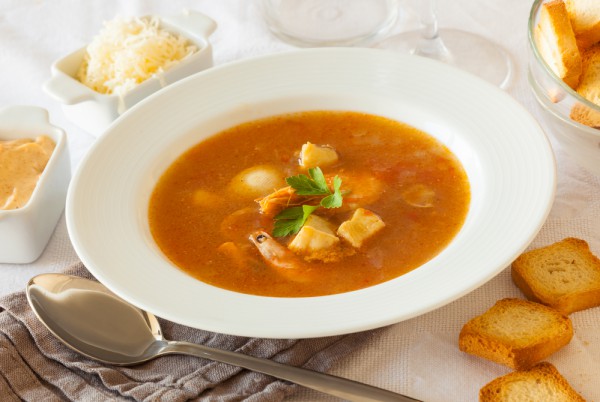 This spicy warming soup is prepared with the addition of salmon, shrimp and squid.
Ingredients
salmon fillet: 500 g
shrimp and squid: 300 grams
white wine: 1/2 Cup
ginger root: 4 cm
dried ginger: 1 tsp
garlic: 4 cloves
peas of fragrant pepper: 7 PCs.
black peppercorns: 7 PCs.
salt: a pinch
water:
Cooking time: 120 minutes | Number of servings: 4-6 servings
1. Put the fish in a large ceramic pot suitable for the oven, and bake at 180 degrees for 10 minutes.
2. Pour in the boiling water, add pepper, crushed garlic cloves and the ginger, cut into thin slices.
3. Cook 1.5 hours at a temperature of 200 degrees.
4. To get the fish and strain the broth. Add salt, dry ginger, wine and seafood, cook for another 15-20 minutes. Remove the fish from the bones and return to soup, bring to a boil.
5. Serve the soup together with toasted bread.